Project Management ABC: K for Kanban
Present tasks clearly and process them in a structured way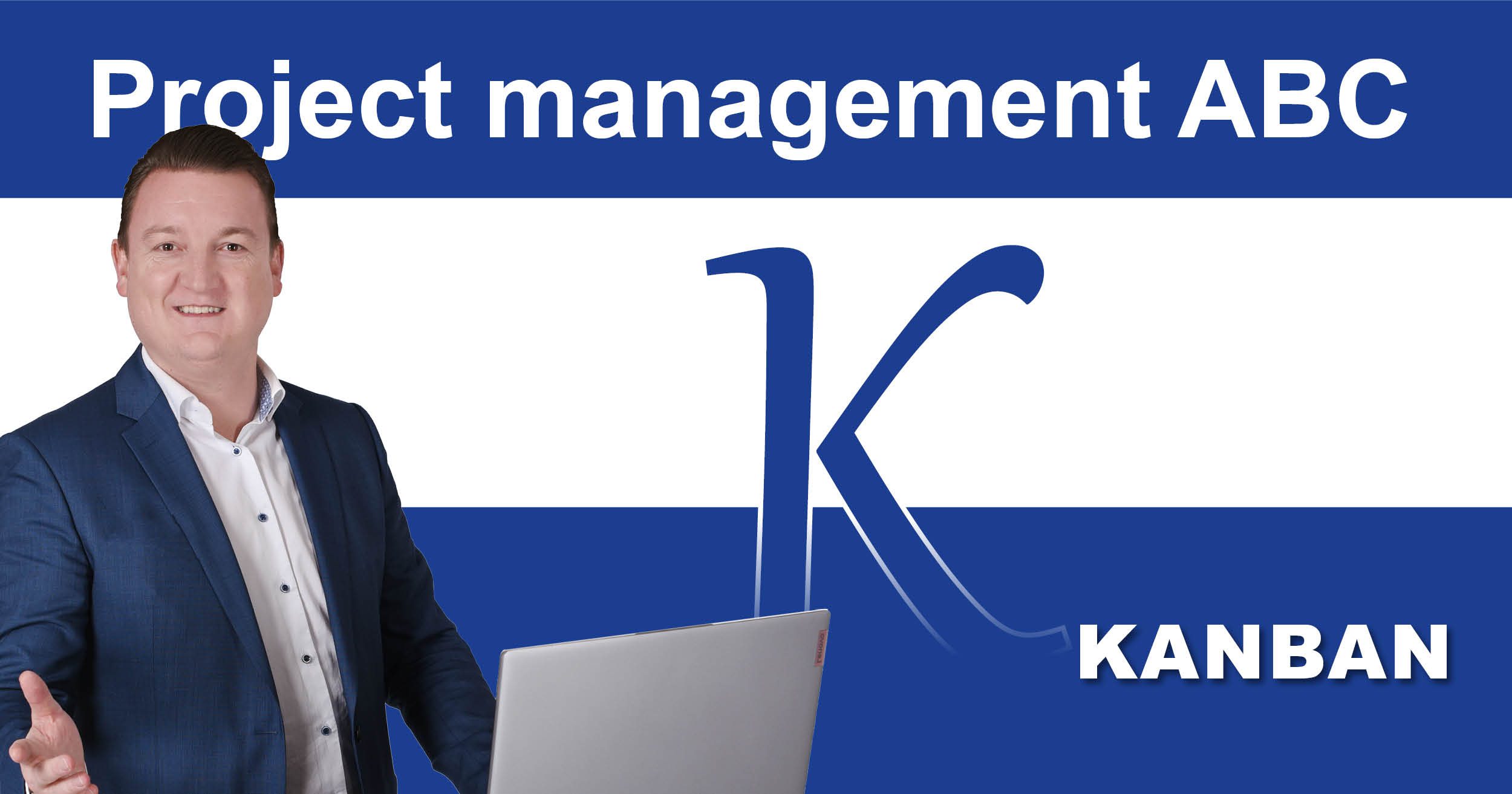 With a Kanban board, the tasks of a project can be clearly displayed and processed in a structured way. This makes extensive projects with many subtasks manageable, but also keeps small, daily tasks in focus. How exactly this works and why the Kanban method is especially popular in agile project management is explained here.
What is Kanban?
The term Kanban comes from the Japanese and means signal card. The method was developed in the 1940s by Taiichi Ohno for Toyota and was originally intended to reduce inventories and optimise production processes as part of lean management. As the Kanban method has many advantages, it was quickly adapted to be used also in other areas, such as project management.
With the help of a Kanban board, classic to-do lists are optimised in project management so that they are displayed more clearly. In addition planning, monitoring as well as controlling is simplified.
What does a Kanban board look like?
A Kanban board gives a simple overview of many different tasks and work steps so that a project team can quickly see which task is in which status. Originally, this was done with a blackboard and Post-Its, but today digital solutions are often preferred.
The simplest form of a Kanban board has 3 columns in which the respective tasks (cards) are sorted and responsibilities are assigned. These columns are:
1. To-do: All tasks that are to be completed are recorded here.
2. Work in progress: All tasks that are currently being processed are placed in this area.
3. Done: As soon as a task is completed, it is moved to this column.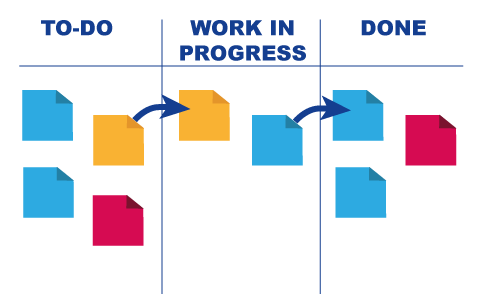 This structure is very simple and at the same time offers high efficiency. At the same time, it can be supplemented with additional columns, for example for ideas, backlog, release or test processes. Comments can also be added to the individual task cards, so that they can contain deadlines, checklists or responsibilities, for example. In addition, the cards can be coloured, for example, to indicate responsibilities or priorities. There are no limits to your creativity. This makes working with a Kanban board very flexible and individually adaptable to every company and project. The easy-to-understand visualisation of tasks and their status helps all project participants to keep track of the current status of the project at all times.
How do you work with a Kanban board?
Once the Kanban board is designed according to your needs, the tasks of a project are recorded and written down on the cards. They first end up in the "To-do" column. Step by step, the individual cards are then drawn from column to column by your team members and are worked through until they are completed. A few principles apply here.
1. Visualise work
A Kanban board is used to visualise tasks and work steps. Therefore, it is important that the board is adapted to your individual steps. At the same time, you should make sure that tasks are neither too small nor too large. With the former, you can quickly lose the overview, and with the latter, movements on the Kanban board rarely take place, which means you cannot take advantage of the many benefits of Kanban boards.
2. Limit tasks
The number of tasks that can be worked on in a station at the same time should be limited, i.e. only a certain number of cards can be in one column at the same time. This helps you to ensure that work packages are completed quickly and thus to work in a focused manner.
3. Control tasks
The goal of a Kanban board is to complete tasks as quickly as possible, i.e. without waiting times, bottlenecks or unnecessary loops. A Kanban board therefore helps you to identify where errors or problems exist in your process, for example a single employee is overloaded. Once you have identified such points, you can optimise the respective processes and achieve better project planning.
4. Feedback
Continuous feedback and reviews are an important part of the Kanban Method. This way, you can recognise bottlenecks or potential for improvement if, for example, a task remains in the "WIP" column for a very long time, this gives you the opportunity to talk about it with your team. In addition, you can, for example, add a feedback column to your Kanban board after tasks have been completed, so that your team members can immediately see that the result of a task in this column should be checked and feedback given.
5. Continuous improvement
Feedback should always lead to improvement. So you should regularly adapt processes and your Kanban board to a changed or newly identified need.
6. Clear rules
To avoid confusion, all employees involved in the Kanban board should know and follow the same rules. So you should define, for example, who is allowed to move cards when and where. Our tip: Make these rules visible on the Kanban board. This way, your team members can access them at any time and you avoid unnecessary discussions.
Advantages
Clear and concise visualisation of tasks and their status
Problems can be identified quickly
Improves focus on individual tasks
Promotes independent work of your team and teamwork
Individually adaptable to your company
Easy to implement
Disadvantages
A Kanban board can be met with rejection as it makes processes transparent. This means that problems are quickly uncovered, such as poor communication between employees as well as, for example, when an employee works slower than others.
Less suitable for very large project teams, as the board is then less clear. Since the project result is often only presented in one piece at the end of the project, errors may be noticed too late. They then have to be corrected in a time-consuming and costly manner.
For whom is Kanban suitable?
Kanban is particularly suitable for small teams that want to work in an agile way. Since the board can be set up very simply and can be flexibly adapted, hardly any prior knowledge is needed to work with it. Thus, a Kanban board provides a simple and quick overview of the current status of a project and enables the team to work together easily.
With the Kanban method, all team members keep track of the progress of a project as well as individual tasks or even difficulties. At the same time, with the help of a Kanban board, project management can be optimised and work can be done more efficiently. If you are not yet working with the Kanban method, you should definitely try it out. To get started, all you need is a whiteboard, pens and some Post-Its.
Or do you already use project management software like myPARM? As a brand new feature, myPARM has a Kanban board that allows you to keep track of your tasks and plan them, but also helps you to plan and implement projects. In this way, projects can be planned easily and quickly and you can enjoy all the benefits of a digital version of the Kanban board .
More about the project management software myPARM:
Would you like to get to know myPARM in a demo presentation? Then make an appointment with us right away!