The most important reports in project management
This is how you get the best overview of your projects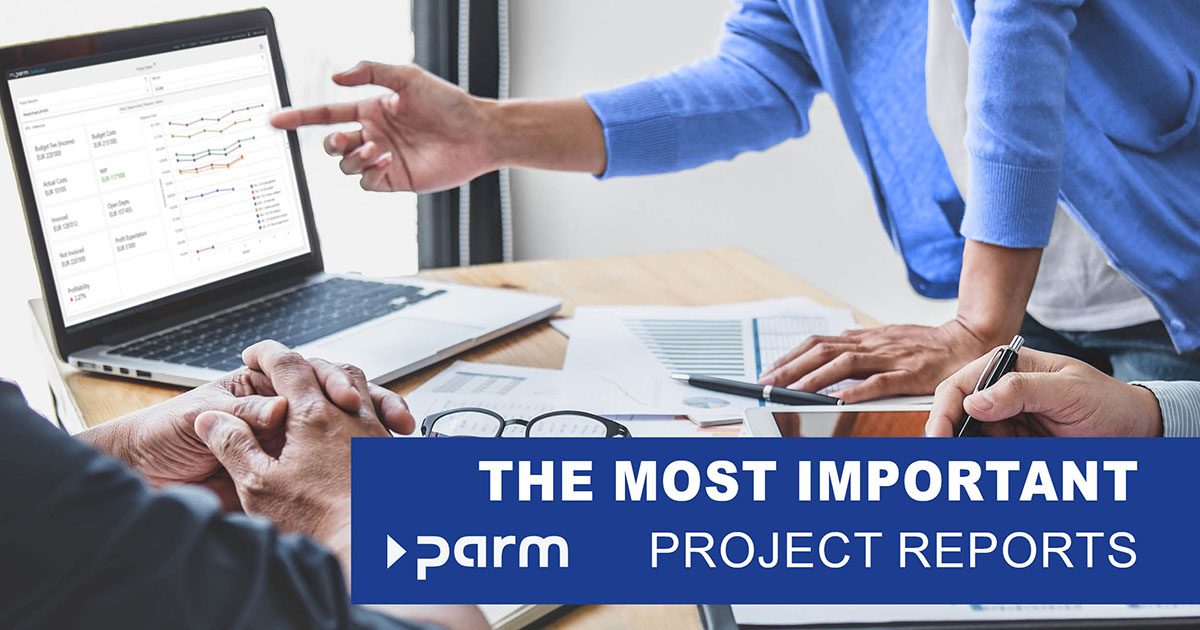 It can be difficult to keep track of projects – especially if you manage several projects at the same time or if the projects have a very large scope. A good reporting system with sophisticated reports shows you all the important facts about your projects clearly presented at a glance. This way you can keep track of the current status, make decisions and inform stakeholders.
To manage your projects successfully, you essentially need the following five reports:
1. Portfolio report
The portfolio report helps to monitor and control the project portfolio. It summarises the current status of all your projects and programmes and compares their key figures, such as the performance and completion of the projects. Since all projects are analysed in parallel in this way, you can also prioritise the projects and, for example, reallocate company resources to work on the projects in line with your company goals. A project portfolio report can include, for example, the overall status of your portfolio, the status of individual projects, adherence to schedule and budget, as well as resource utilisation.
2. Project status report
A project status report is a standard report in project management. This report gives you an overview of the status of an individual project at the time of reporting. In addition to general project data, a project status report usually contains:
the project status in terms of time (overview of the timeline)
the project status
comparisons of baseline, planned and actual values of deadlines, work and costs
important milestones as well as risks and changes
qualitative assessments and additional information
Project management software automatically provides you with project status reports at defined intervals. In addition, you can add important comments on the status to provide further useful information.
3. Resource report
It is essential to keep an overview of the available resources, especially when several projects are being carried out at the same time and the project teams are very large. In this way you can avoid overloads, ensure that existing resources are used as optimally as possible, and plan for new projects. In the case of human resources, for example, you can use a resource report to determine whether resources are still available for another project and whether individual employees have been assigned too many or too few tasks. This evaluation therefore not only helps you to understand the utilisation, but can also provide important insights for planning further projects or for reaction options in case of challenges in projects.
4. Risk report
In every project there are risks that can jeopardise the project's success and that you should therefore keep an eye on. A risk report summarises these risks, shows their probability of occurrence and their significance. This allows you to take measures against these risks and monitor their successful implementation.
5. Financial report
To ensure that your project is also a financial success, you should keep an eye on the finances while the project is still running. Put the costs incurred in relation to the progress of the project and you will quickly see whether you need to intervene in the project because it is threatening to exceed the project budget. Good project management software helps you to record working hours and expenses so that you can always refer to the current total costs and compare them with the planned costs. You can also carry out an earned value analysis, for example.
Conclusion
Creating reports is not the most pleasant task for many project leaders and takes quite some discipline and time. Nevertheless, it is crucial for the success of the project. In order for all responsible persons and team members to get an impression of the current status, reports that clearly summarise the essential information are needed.
Project management software makes it much easier for you to create project reports, because many reports are generated automatically and can be supplemented with comments as well as qualitative information, such as forecasts, if necessary. The easiest way to create reports is to use ready-made best-practice reports. However, you can also design reports entirely according to your individual wishes and needs.
More about the project management software myPARM:
Would you like to get to know myPARM in a demo presentation? Then make an appointment with us right away!