Procurement Intelligence
How to optimise your purchasing thanks to Business Intelligence
Purchasing plays a central role in the success of manufacturing companies and in many cases offers great potential for improvement. For example, savings potential can be exploited, the supply chain can be improved and smooth production can be ensured. To do this, it is important that buyers can make smart, data-based decisions in a changing environment and that they are in control of demand and expenses at all times.
What is Procurement Intelligence?
Purchasers are responsible for providing the right products in the right quality at the right time. To do this, material requirements and goods must be analysed, and supplier evaluations must be carried out. Furthermore, the prices of goods should be as low as possible in order to keep costs down.
In this process, the purchasing department is caught between two stools: On the one hand, goods must be available when they are needed in the company in order to prevent delays in production. This means that it must be possible to cover the dynamically changing demand at any time. On the other hand, not too many goods should be purchased as they block the warehouse and tie up important capital. At the same time, it is important to have purchase figures and forecasts that are as accurate as possible for price negotiations with suppliers. Keeping an eye on all of this at the same time and finding an optimal solution is a major challenge. Efficient purchasing controlling is therefore important for the success of a company.
Procurement Intelligence, Purchasing Intelligence or Supply Chain Intelligence helps you with data analyses not only to keep an overview, but also to find optimal solutions at any time. Procurement Intelligence supports you in making traditional purchasing activities more efficient, facilitates expenditure analyses and demand forecasts as well as helps with supplier relationships and price negotiations. Procurement Intelligence thus visualises, analyses and monitors all important data, processes and key figures in procurement. This gives them a transparent overview of prices, developments and trends, quantity structures, purchasing volumes, processes and suppliers.
Procurement Intelligence helps in these areas:
Data access: In many companies, data is stored in different systems or in Excel spreadsheets, for example. Without a holistic view, however, it is difficult to perform meaningful data analyses. BI software enables you to combine this distributed data in a single place and thus analyse it. In this way, you have an overview of all important information, such as units of account, price variances, supplier and buyer information, target prices or tax information. In addition, automatic reports can be created and early warning indicators can be set.
Processes: With BI software, you can analyse your purchasing processes in detail and find potential for optimisation. At the same time, you can accelerate processes and decisions through clear data and fast analyses.
Cost planning, target-actual deviations, expenditure control: BI dashboards help you in planning your expenditure and keeping an eye on it at all times. This way you can compare planned costs with actual costs and identify deviations. A detailed breakdown of costs is also possible with a BI system.
Risk management: Data analyses can also help to identify risks and take measures against them. These can be, for example, price and compliance risks or geographical risks.
Contract management: Contract negotiations should always be based on sound data. BI software can help by providing all the necessary data at a glance, such as demand forecasts, price comparisons or risks. At the same time, the system allows you to overview and analyse contract data in a single platform.
Supplier ratings: With a scoring model, you can evaluate suppliers and take into account different aspects such as adherence to delivery dates, quality of goods, services and costs, as well as present this in a visually appealing way. This enables you to compare different suppliers in order to find the optimal suppliers for your needs. It also allows you to identify opportunities and risks of each supplier, so that you can address emerging problems early and negotiate good terms.
Demand management and inventory: A BI system also helps you analyse historical material demand to make predictions about future demand trends. In this way, you can ensure that the right amount of goods is available for production at all times, while keeping your inventory lean. In addition, recurring demand peaks can be recognised through analyses so that you are prepared for them in the future. In addition, BI systems enable you to react quickly and flexibly to unexpected demand peaks, for example with an alarm and early warning system. The demand analysis also helps you in price and contract negotiations with your suppliers, so that you can take advantage of savings opportunities.
Distribution: A BI solution can also help you to keep track of the movement of goods within your company or from suppliers. This is not just about moving goods from one place to another, but also about details such as proper packaging, quantity, warehousing and logistics. Real-time monitoring through a BI system helps you keep track of the status at all times. At the same time, BI helps you to reduce delivery costs, such as expenses for fuel, and to identify potential risks.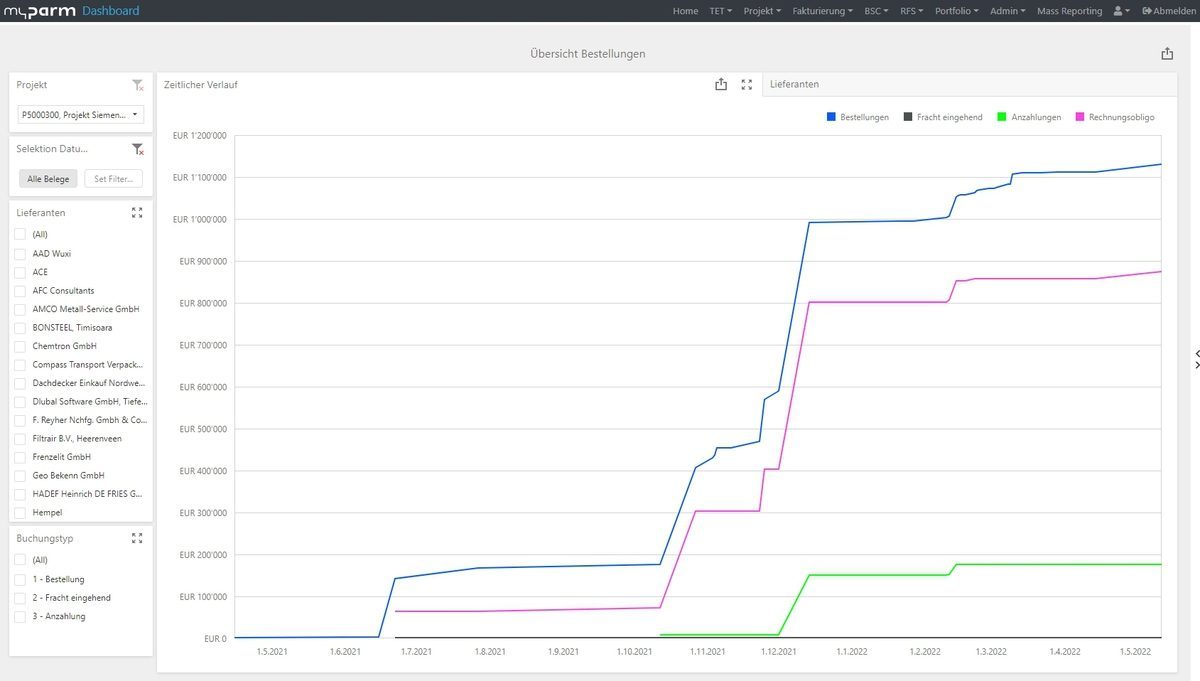 Advantages of BI in purchasing
Processes in purchasing can be analysed and thus made more efficient and transparent
Potential savings are uncovered, e.g. in process and procurement costs
Precise demand planning with demand forecasts
Critical peaks in demand can be quickly identified
Automatic reports
Selection of optimal suppliers
Support during contract or price negotiations
Conclusion
Modern companies can optimise their procurement in various areas with a BI system. Not only can they negotiate better terms with suppliers, but they can also improve processes, predict demands and take advantage of potential savings.
Would you like to find out how you can analyse the potential for improvement in your purchasing department?
Learn more about the Business Intelligence Software Software myPARM BIact:
Would you like to get to know myPARM BIact in a demo presentation? Then make an appointment with us right away!